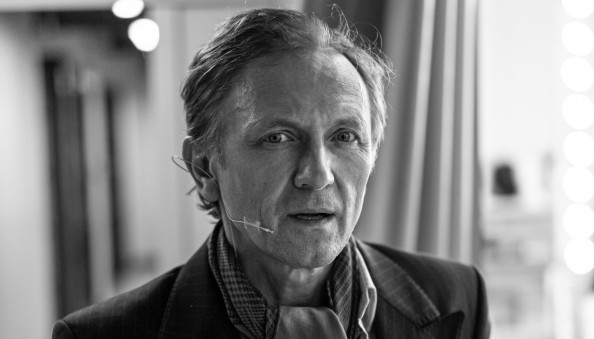 He studied acting and directing at the Aleksander Zelwerowicz National Academy of Dramatic Art in Warsaw, obtaining his diplomas in 1987 and 1994, respectively. Andrzej Chyra carefully chooses his roles and has collaborated with some of the most eminent Polish film directors, such as Andrzej Wajda, Krzysztof Krauze, Krzysztof Zanussi, Feliks Falk, Marek Koterski, Juliusz Machulski, Łukasz Barczyk, Jacek Borcuch, Konrad Niewolski and Małgorzata Szumowska. He continues to seek out new challenges and unusual projects.
He has been involved in large and often international productions, as well as independent artistic projects. In the theatre he has appeared in shows directed by Jerzy Grzegorzewski, Agnieszka Glińska, and Grzegorz Jarzyna. In 2001 Andrzej Chyra played the role of Dionysus in the Krzysztof Warlikowski's Bachantki (The Bacchantes by Euripides) at Teatr Rozmaitości in Warsaw. Since then he has regularly performed with Warlikowski's ensemble.
He has twice received both the Best Actor Award at the Gdynia Film Festival and the Eagle Polish Film Award (known as the Polish Oscar). He debuted as an opera director in 2013 with a production of The Gamblers based on Nikolai Gogol's libretto, with music by Dmitri Shostakovich, at the Baltic Opera in Gdańsk. On commission from the Malta International Theatre Festival, Andrzej Chyra undertook the staging of The Magic Mountain, with a libretto by Małgorzata Sikorska-Miszczuk based on Thomas Mann's book, with music by Paweł Mykietyn and set design by Mirosław Bałka, for which he received the Konrad Swinarski Award.